We've all been there!…Don't worry.
This seasons coaching for beginners and refreshers/bowlers will begin in May, Sunday at 2.00 pm.  Wednesday at 6.30 pm
Balgay is particularly keen to attract those who have never bowled before and free tuition and advice is available. Tuition starts from the absolute basics and includes all of the guidance required to bowl competently in a very short period of time. Bowling is not a complicated game.
Equipment
To start with all you need are suitable shoes (essential) and a set of bowls. Those new to the game are not expected to have all the necessary equipment straight away and it is possible to borrow bowls. Bowling shoes have flat, smooth soles with no heel and any temporary footwear must be flat-soled. Most people are keen to buy their own, new or used, equipment fairly soon and advice on suitable equipment is available.
Dress Code
Bowling can still have the image of the 'formal dress' sport but this is not a true reflection of the modern game. For all informal games at the club casual, informal dress is the norm and only when representing the club in an inter-club game is a 'greys and whites' combination expected. But even then it is now possible to wear a white club 'polo' shirt rather than shirt and tie in many games.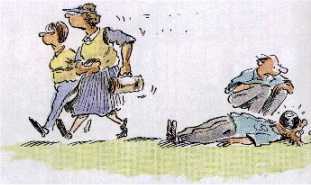 "There's nothing wrong with saying hard luck!
Just learn to do it without the snigger."